MEASUREMENT, TESTING AND ANALYSIS
TATRA METALURGIE a.s. has its own laboratory and technical background for dimensional control and offers these services not only within the TATRA group, but also to a number of industrial companies in the region. Laboratories and testing laboratories are testing laboratory No. 1712, accredited by ČIA acc. to ČSN EN ISO / IEC 17025: 2018. Laboratories and testing laboratories of TM a.s. are also members of the Association of Czech Testing Laboratories, and are authorized to use the designation - with activities recognized by SČZL / CTLA. Laboratories and testing laboratories regularly take part in interlaboratory comparisons and, thanks to a long tradition, offer customers the security of professional services.
Laboratory of mechanical testing
We provide standard mechanical tests, including the preparation of test specimens from delivered products.
Standard tests:
Tensile test according to EN ISO 6892-1

Charpy hammer impact test at ambient temperature and reduced temperature acc. to ISO 148-1

Brinell hardness test acc. to EN ISO 6506-1

Vickers hardness test acc. to EN ISO 6507-1

Rockwell hardness test acc. to EN ISO 6508-1
We usually perform these tests on cast and forged materials, ferrous and non-ferrous metals.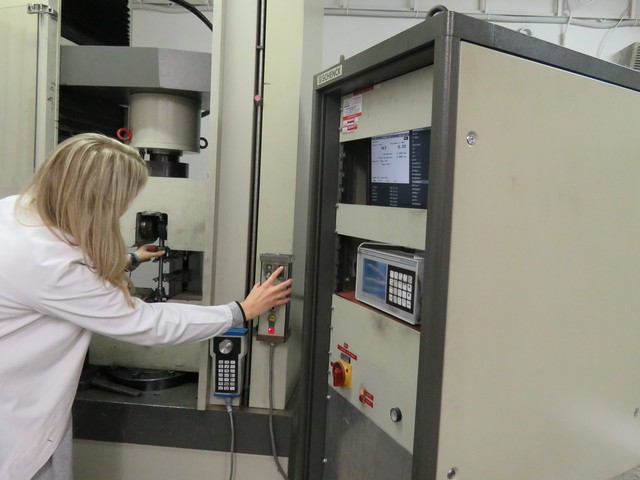 Metallography
For metallographic analysis we use classical optical microscopy with outputs recorded in digital form. As a standard, we perform tests of micro and macrostructure, eg Baumann imprint, macroleptic with nitric acid, evaluation of percentage of phases, grain size and micropurity according to national and international standards.
Chemical laboratory
The analysis of the chemical composition of metallic materials is standardly performed by atomic emission spectrometry. We are equipped with 2 spectrometers that use the analysis of the spark spectrum from the surface of the tested material and thus provide a complex element analysis of the tested material. In addition to this optical emission spectrometry, we use the combustion method for accurate analysis of carbon and sulfur, and we are able to provide even higher reliability for these elements than emission spectrometers provide as standard.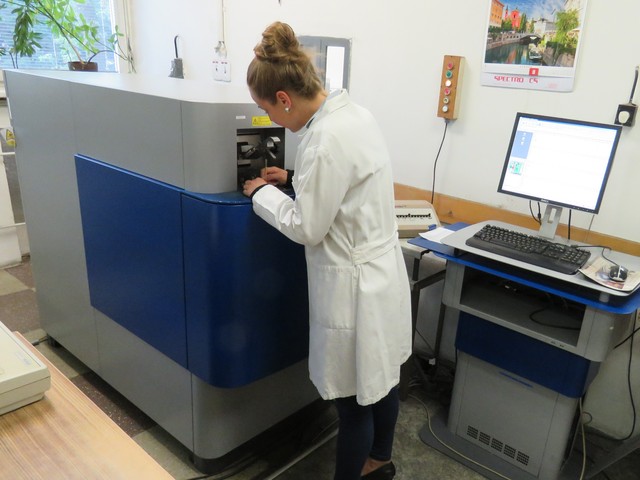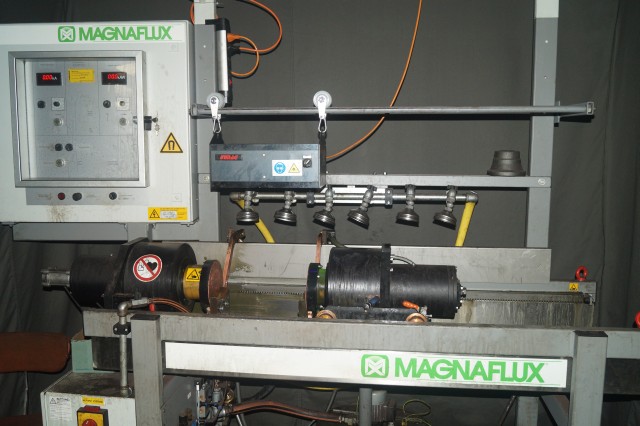 Non-destructive testing
Defectoscopy is a natural part of operational tests. We mainly deal with MT, UT, RT methods, ie magnetic powder method, ultrasound control and radiographic method. The magnetic powder method is carried out on stationary devices and portable equipment, ultrasound using a portable device and for X-rays we are equipped with a modern X-ray lamp, which we operate at a stationary workplace in the company.
Measurement
The area of measurement is a typical area of quality control in the company TATRA METALURGIE, a.s. We use conventional manual length, shape and angle gauges. In addition, we are equipped with 2 mobile 3D meters and 1 stationary 3D device. We are able not only to evaluate the length and angular characteristics with great accuracy, but especially we can scan the shape and compare it with the 3D model when graphically expressing the deviations from the nominal shape.